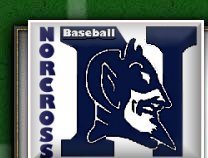 2004 NDY PEE WEE CHAMPS
Red Sox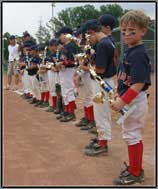 2004 Red Sox Roster
# 1 Carter Willyerd
# 2 Ian Lloyd
# 3 Jeremy Adams
# 6 Sam Weber
# 7 Christian Castro
# 8 Thomas Evinger
# 9 Kevin Kelly
#10 Lane Langston
#11 Trey Peters
#17 Nelson Stewart
#22 Zack Walch

Team Goals
Coach's Note
Every successful team I have ever been involved with began with the coach setting challenging but attainable goals. Setting and reviewing the goals throughout the season gives the kids a sense of belonging to a baseball team where everyone contributes to its success compared with a team where kids just show up for the games and look forward to the swim season. The goals we set for the kids will be simple and centered on team play.
2008 Norcross 10U Goals

Batting: .580 On Base Percentage
Defense: 5 Error Free Games
Pitching: 1:1 K2BB Ratio and 2 Shutouts
Team: .700 Winning Percentage or Go Undefeated at Home
Team: Win the GGBL

MVP Award Process

At season's end each player and coach will vote for the team MVP and Cy Young Award. All other year end awards will be determined by the coaching staff.